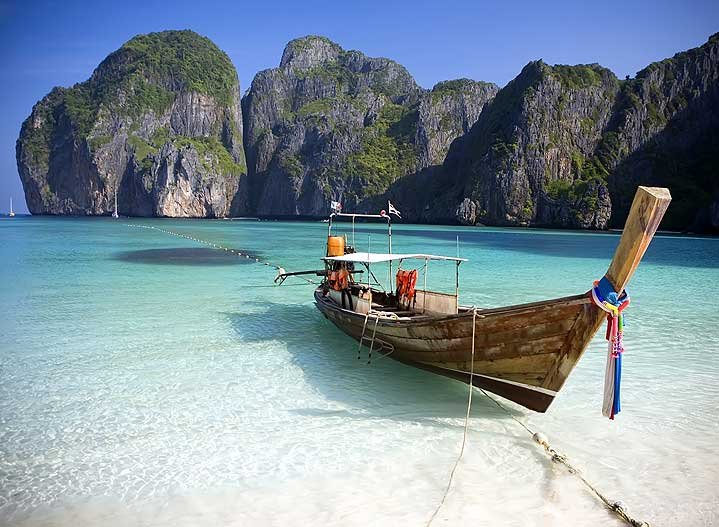 Once you are on board the boat we will begin our journey to Phi Phi Island, we normally depart at 9am on the first day to help you get the most from your charter.
Our air conditioned transport will collect you from your resort or hotel and bring you to the departure point, where a crew member will meet you and get you settled in for the start of the adventure.
Once on the boat we start our adventure. Cruising South from Chalong we head towards Phi Phi Island, in actually its a group of about nine islands with the main ones being: Koh Phi Phi Leh, Koh Phi Phi Don, Koh Mai Phai, Koh Pai, Koh Bida Nok, Koh Yung, Koh Bida Noi.
The islands offer beautiful beaches and crystal clear waters and an abundance of fish life. many of the beaches are  protected by National Park status to preserve their natural beauty. Tourism on Koh Phi Phi has exploded since the filming of the movie "The Beach"
Unlike the early 1990's, when only the most adventurous travelers visited the island. Nowadays, the island is one of the major tour and charter destinations for visitors to Krabi and Phuket - but there are still plenty of places for us to take you where there are less crowds.
When we arrive at Phi Phi we will visit some of the more popular destinations for some photo's (we will head back there later in the day to anchor up and enjoy the solitude once the crowds have left) and then onto visit the famous Hongs of Phi Phi, where you can get off the boat and explore by kayak or the boats dinghy.

Once you have finished exploring it is time to head to the beaches, heading up the coast past Viking Cave - home to thousands of swallows and other nesting birds, this is now a major industry here in Phi where the nests are harvested to make soup.
There is a short cruise following the coastline until we get to a gorgeous little bay. This bay provides great snorkeling over a wonderful reef full of life, at low tide there is a "secret beach" with white sands covered in Hermit Crabs. At certain times of the year its also possible to snorkel with juvenile black tip sharks in about 5 meters of water which is an amazing experience.
After enjoying some time on the beach and snorkeling, its time to cruise over to the other island of Phi Phi and visit some of the beaches on the West coast. There are several beaches with the jungle and wild monkeys that come right down to the beach,  the monkeys are wild yet used to people coming to the beach so will come down and accept bananas and even water bottles for a drink - just remember that they are still wild animals!
Once you have enjoyed the beach and exploring the nearby jungle and rock pools it will be time to move on again to another one of our favorite little spots - a small bay which offers shelter and a wonderful little beach, ideal for a private group to explore and enjoy it is a great place to relax before heading back down to Maya bay where we will anchor up for the evening.
Having Maya Bay all to yourself is a wonderful experience, you really understand and appreciate the remoteness of the islands and beach. Once all the speedboats and tourists have gone, you have plenty of time to walk "The Beach" and enjoy the natural beauty of the limestone cliffs and azure blue waters.
Enjoy watching the sunset over the horizon and the stars coming out in the darkening skies before a quick ride back to the boat for an evening meal and relaxing with friends and family.
Waking up in the morning to the sun and the gentle rocking of the yacht in the calm lagoon is a perfect way to start the day. Our staff will prepare breakfast for you and after you have eaten, maybe had a swim or a walk on the beach before the crowds arrive it will be time to head out to cruise around the islands of Phi Phi once again.
Your charter boat will continue your overnight sailing adventure around Phuket by heading over to Bamboo and Koh Yung islands to the North of Phi Phi. Here you will find remote islands with pristine beaches and dense forests to explore and enjoy. The beaches offer the ideal place to relax and soak up the sun and the ocean waters are cool and clear with an abundance of sea life - perfect for snorkeling and swimming, especially for the kids as the beaches are very shallow and gentle.
By midday it will be time to move onto some of the smaller islands on the way back to Chalong, we will stop at Koh Maiton and anchor up for lunch and enjoy being surrounded by clear seas and a rocky coastline. After a enjoying a freshly prepared lunch by our on board chef you can take a swim or explore the beaches and coastline for a while, then we will cruise West towards Koh Hey which will be one of our final destinations. Koh Hey has a number of small bays and beaches, as well as some great bottom fishing on some submerged pinnacles. It is also home to the large billed Macaws, sea eagles and fruit bats, as well as some wild goats which can be seen roaming the coastline.
As the sun starts to set in the early evening we will cruise around the back of Koh Hey and down to the Southern end of Phuket to watch the sun dip down over the horizon before finally coming home to Chalong.
Available boats for Phi Phi Islands Sightseeing & Snorkeling Safari:
A spacious and and luxurious yacht ideal for families, larger groups or special occasions.  With 4 bedrooms, large lounge and plenty of deck space and external seating, this catamaran is perfect for cruising sedately around the islands. With 4 bedrooms, large lounge and plenty of deck space and external seating, this catamaran is perfect for cruising sedately around the islands. With its cruising speed of 16 knots it is able to get you to a variety of destinations during your yacht charter and perfect for this overnight charter.
SAFARI PRICE - 130,000 THB
Perfect for day charters but even more so for Overnight and 3-4 day island safaris. This motor yacht offers traditional style and comfort with spacious rooms and lounge areas as well as a large upper deck for sunbathing. An enjoyable cruising boat ideal for couples and families exploring the islands of Racha Yai & Racha Noi.
SAFARI PRICE - 75,000 THB