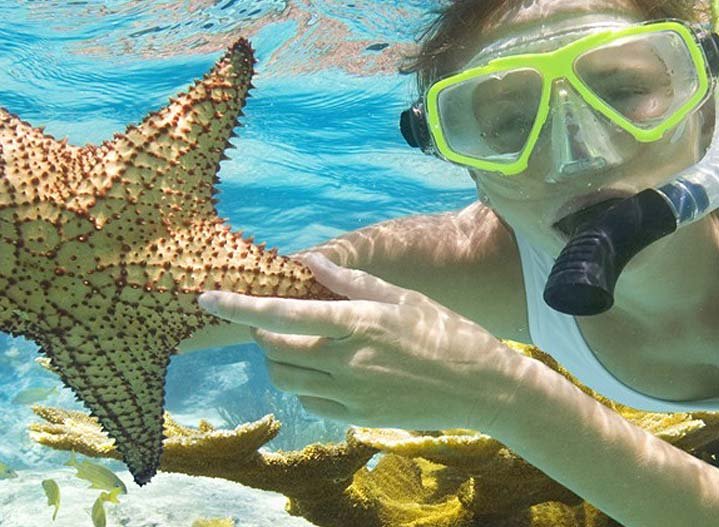 Departing at 9am we leave for the Racha Islands, two large islands to the south west of Phuket in the Andaman Sea. The journey takes approximately about 1 to 2 hours on a motor boat or catamaran cruise from Chalong, and is very relaxing and scenic as we pass local islands just off the southern coast of Phuket.
The islands offer wonderful beaches for snorkeling, swimming and sunbathing along with an abundance of reef life and fish. They are also a popular destination for diving which may also be arranged for you upon request.
Racha Yai is the busier of the two islands, with several hotels and small bungalow resorts. We will stop at several of the bays on Racha Yai the first of the two islands to give you a chance to explore the beaches and enjoy a spot of snorkeling with the local fish life. After you have had chance to relax and swim we will serve your lunch - normally a Thai Buffet with a selection of traditional dishes prepared from local fresh produce by our chef. After lunch and some more relaxation and swimming we will start to cruise down the coast of Racha Yai towards Racha Noi, stopping at several more beaches and bays on the way.
On the crossing between the two islands we will start your Game Fishing adventure with the chance of catching Dorado, Mackerel, Tuna and even the occasional Barracuda!
Racha Noi is the furthest south of the two islands and is deserted, cruising down the coast sometimes if we are lucky we see pods of dolphin playing in the deep blue seas, if we are really lucky and they want to come play with us they swim alongside and in front of the boat surfing the bow waves and leaping out of the waves - it really is an amazing sight, so make sure you have the camera ready!

On the southern most tip of Racha Noi is one of our favorite beaches, almost always deserted when we arrive it is ideal for families and children as it offers a sheltered bay with crystal clear shallow waters teeming with fish, the white sandy beach is beautiful and at low tide it is possible to walk over to a rocky outcrop which is isolated by the rising tides.
Here is where we will spend the night, anchored up in the bay with no one else around is a wonderful experience. You can watch the sunset over the horizon and enjoy a freshly prepared evening meal by our onboard chef, relax with a glass of wine or a beer and enjoy the gentle rocking motion of the boat as the stars come out.
In the morning once you have woken up and enjoyed your fresh fruit and continental breakfast we have time for some more swimming and beach exploring, then its a slow cruise up the coast and some more game fishing. Stopping off at one of our favorite bays for some bottom fishing and lunch we then cruise over to one of the local islands we passed on our way out to Racha - Koh Lon for some more beach time and to watch the sunset while cruising back to Chalong, where your air conditioned mini van will be waiting to take you back to your resort.
Available boats for Racha Islands Snorkeling & Fishing Safari:
 48ft Motor Catamaran Escape Artist
A spacious and and luxurious yacht ideal for families, larger groups or special occasions.  With 4 bedrooms, large lounge and plenty of deck space and external seating, this catamaran is perfect for cruising sedately around the islands. With 4 bedrooms, large lounge and plenty of deck space and external seating, this catamaran is perfect for cruising sedately around the islands. With its cruising speed of 16 knots it is able to get you to a variety of destinations during your yacht charter and perfect for this overnight charter.
SAFARI PRICE - 130,000 THB
Perfect for day charters but even more so for Overnight and 3-4 day island safaris. This motor yacht offers traditional style and comfort with spacious rooms and lounge areas as well as a large upper deck for sunbathing. An enjoyable cruising boat ideal for couples and families exploring the islands of Racha Yai & Racha Noi.
SAFARI PRICE - 75,000 THB