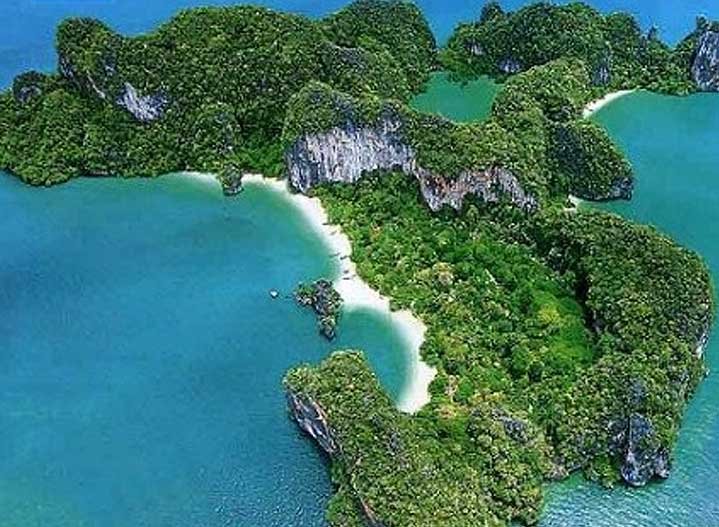 400 square kilometers of National Park with 42 islands and bays formed by faulting of the rock formations some 10,000 years ago, With the sea water eroding the limestone into cliff structures called karsts.
The cliffs and rock faces rising sheer from the waterline producing stunning vistas of outcrops, overhangs, rock pillars, bridges and caves are silhouetted against the bay's shimmering blue surface and as the sun sets the scene gradually darkens into shadows and outlines, the moon rises and the scenery changes with phosphorescent in the water and moonlight on the seas.
Add to that a comfortable boat with great food, company, plentiful supplies of drinks and you have an experience and memory which will stay with you for a lifetime.
It's not just the breathtaking beauty of the bay which makes it special, the shallow waters are rich in plankton and sea grasses which support a multitude of marine life like; puffer fish, angel fish, dolphin, porpoise and manta rays, many of which come here to spawn.
The rain forests and mangrove swamps which border the bay are also full of wildlife. This really is a beautiful and at times almost magical place to enjoy boat charters.
Many of the other islands in the area are worth exploring with secret caves and tunnels leading into circular Hongs as well as the famous, some would say now notorious Koh Tapu Island or James Bond Island is where the movie 'The Man with the Golden Gun' was filmed - unfortunately now though it is a very popular tourist destination and one we try to avoid although if you have 20 minutes its worth it to check a tick in the box if you really have to.
Panyee island is home to the Sea Gypsy village - the houses are built on stilts over the water and they still use traditional shallow water fishing techniques. they also have a variety of sea food restaurants which cater to the boat loads of people visiting James Bond Island on the tour packages, but again if you wait until after the crowds have left the food and scenery is amazing.
We could go on describing this wonderful and amazing destination as its one of our favourites but maybe its better to let you find out for yourself and let you enjoy kayaking through the caves or exploring deserted beaches and bays.