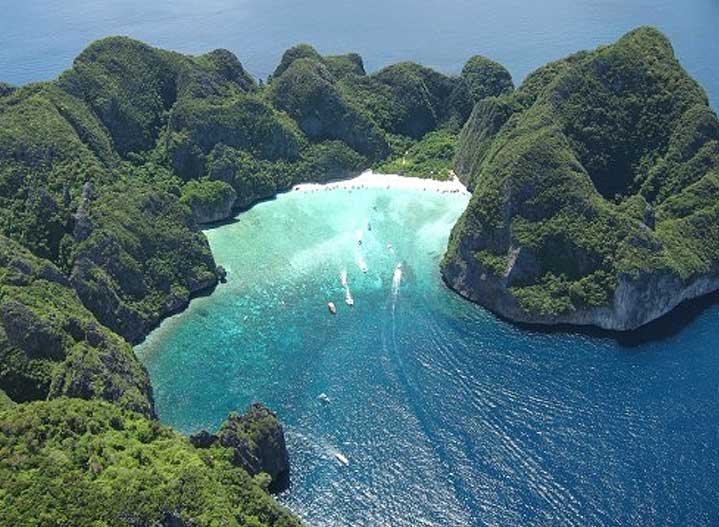 Southeast of Phuket this small group of islands is a popular charter destination. Phi Phi Don, the largest island, is the only inhabited island. Shaped like an hourglass with two half moon shaped bays separated by a small strip of land it is easy to walk through Phi Phi town from one side of the island to the other to explore both beaches. Both of the bays are surrounded by tall cliffs which are covered in tropical plant life.
Phi Phi Lei, offers spectacular beauty, with large caves holding bird populations and hidden lagoons, spectacular snorkeling, diving, beaches and cliffs to explore. making it one of the most popular travel destinations in the world.
With the natural beauty of the islands and being so close to Phuket makes it a very popular boat charter or day-trip destination. Of course it is also famous for the film 'The Beach' starring Leonardo Di Capprio, which was filmed here (causing some controversy when the company tried to make it more perfect) and this has contributed to an increase in the number of visitors. Back on Phi Phi Don there is a deep-water pier on Tonsai Bay which is used by the ferry boats and dive companies.
Unfortunately this scenic paradise is no longer as pristine due to the large amounts of people coming to see the tropical paradise but it is still possible to enjoy the wonders of its many bays and night life once the crowds have left, especially if you take an overnight boat charter or stay on the island. It is still possible to avoid the 'madding crowd' as there are many deserted bays which offer both beauty and seclusion.
Archeological artifacts discovered on Phi Phi indicate that the place has been inhabited since prehistoric times. The name may have derived from the Malay Pokok Api-Api which means Fiery Tree - a species of mangrove commonly found here.
Since the nineteenth century it has been occupied principally by Muslim fisherman. Coconuts were also cultivated. A profitable industry still happening today is the harvesting of bird's nests on Phi Phi Ley, for the preparation of that soup much esteemed by the Chinese. Phi Phi has been a National Park since 1983 and there are therefore no official roads here, but if you are feeling fit you can get around on one of the many bicycles for rent, don't forget to bring your cameras of course.
The island group of Phi Phi has a multitude of coral dive sites and snorkeling reefs all teeming with marine species of all kinds. For those who are more sporty in nature and like to explore, there is an elevated viewpoint which offers breathtaking sea vistas and a local restaurant which offers great refreshments and snacks.
Climbing is also very popular here in Phi Phi and we can arrange with local tour guides offering adventure and even cliff jumping tuition. Make a film of your spectacular cliff jump to take home and amaze your friends.
Enjoying a Sunset from the yacht or motor boat is one of the best ways to see it, especially when anchored up outside Loh Sama Bay with a cool refreshing drink in your hand or on in one of the many beach bars for a sundowner.